Curriculum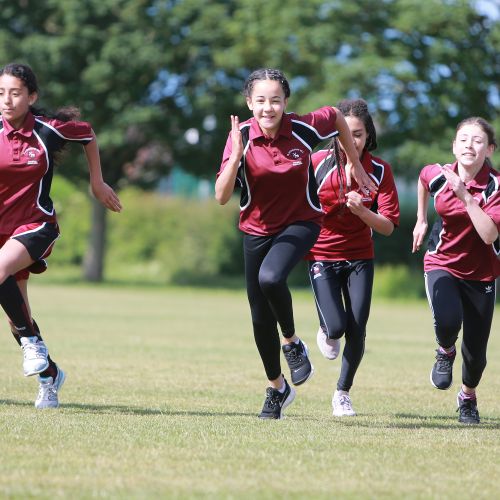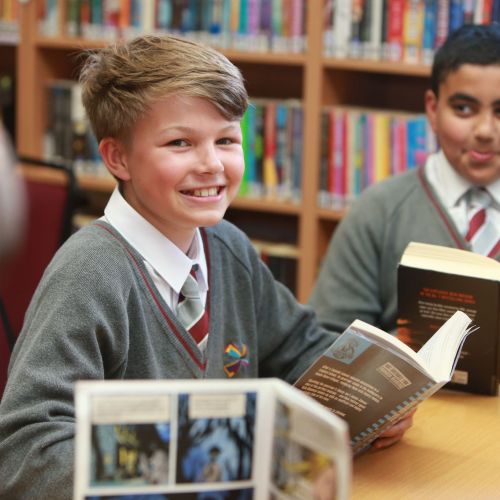 Curriculum Departments
Please click here to view the Key Stage 4 Options Booklet.
English
Subjects : English, English Literature, Media Studies.
The work of the English and Media Studies Department is driven by a passion for the written word and inspiring our students to feel the same. We draw on a wide range of poetry, drama, media resources, fiction and non-fiction in order to stretch imaginations across all key stages.
We aim to equip students with the skills they need to be able to engage and communicate in an ever changing world of work, and further study through a relevant and engaging curriculum. As well as offering GCSE English Language and English Literature, students also have the opportunity to study Media Studies at GCSE and A-level, and the combined English Language and Literature A-level. A levels are also offered in Creative Writing and Film Studies.
All students are assessed at least once per half term and great care is taken to ensure students know how to improve their reading, writing, speaking and listening skills through reflection and practice. This approach allows all students to be able to achieve successfully in English, regardless of ability. Students who require extra support are provided with small group sessions, after school booster sessions and a Homework Club. We encourage creativity and independence in lessons, as well as through meaningful homework tasks and projects.
The English department is a lively place where competitions are organised; we run a group Spelling Bee in Year 7 and a poetry competition for National Poetry Day. There are also author visits and trips to see live poetry to enhance Year 10 and 11 students' understanding of their GCSE poetry texts. We also run a Scrabble club and an after school reading group.
Maths
Subjects : Maths.
The Maths department at Blatchington Mill School aim to ensure that all students enjoy Mathematics and are enthusiastic about learning Mathematics regardless of ability. We aim to equip students with both a conceptual and functional knowledge of Mathematics, as well as ensuring they leave with the best possible GCSE grade. To this end, we are developing and using a scheme of work that focuses on the use of investigations to connect the different areas of Mathematics. This helps promote a deeper learning and understanding of Mathematics.
We aim to provide extra support for all students who require it. Our 'Thursday Maths' after school support session is popular with all age groups and we look to provide small group and 1-to-1 tuition where we can. We also aim to provide opportunities for students to access extra-curricular Maths. Each year we go on a theatre trip to inspiring Maths lectures, we have students involved in both the individual and team UK Maths Challenge, and also run an after school Maths Challenge group for all students who want to try mathematical activities that extend beyond the curriculum.
We subscribe to a number of websites and resources that we encourage our students to use outside of school. The most popular of these are www.mymaths.co.uk, JustMaths, and CGP Maths tutor.
Science
Subjects : Science, Additional Science and Triple Science.
Why is Science so great?
Humans have made greater leaps forward in science and technology than in any other kind of human endeavour. An evidenced based approach to understanding nature has proved amazingly successful. To show our children and young adults the marvels that science has revealed must be a vital part of growing up. That so many aspects of tomorrow's world will be driven by science is a further utilitarian reason for everyone to gain an insight into the basic principles governing the workings of our universe.
Science Department Aims
To provide a safe and secure environment for all students, and show we value them as individuals.
To provide the best science education we can while covering the National Curriculum, regardless of any inherited or environmental differences between students, or barriers to education they arrive with, including ability, health, attitude, religion, family background, sex, ethnic origin.
To answer their questions, and feed their fascination and curiosity about the world and how it works, and show science is interesting and fun.
To explain the beneficial and detrimental impact science has had on our lives and our societies and our planet, and that wielding such power carries risks and responsibilities.
To make them feel part of this technological age and enable them to take part in informed debate.
To teach the value of carefully observing and thinking before doing, by demonstrating how easy it is to be misled, and how easily common sense lets us down.
To develop future scientists.
KS3 Science
In KS3 all students will study the basic principles behind biology, chemistry and physics. This will prepare them for KS4 where all students will study all the 3 sciences in greater depth.
KS4 Science
A variety of courses are available to suit all needs. Our provision includes GCSE and BTEC qualifications. Students will study science for at least 10% and up to 30% of their time in school. Exactly how much will depend on their aptitude for science and their own preferences. Regardless of choice, all students will study biology, chemistry and physics until the end of KS4.
Humanities
Subjects : Ethics & Philosophy, Geography, History, Law, PSHE, Religious Studies, Sociology.
Ethics & Philosophy
KS4 
This course is designed and delivered to feed the natural curiosity of our students. Our young people have endless questions about life, death and meaning; questions that this course taps into and develops into a meaningful narrative with measurable outcomes. Students of Philosophy and Ethics will gain not only a highly respected GCSE qualification but a real insight into the joy of discovery through learning.
GCSE Philosophy and Ethics will ask students to consider a range of philosophical issues, such as the problem of evil, how to cope with suffering, the nature of belief structures, the possibility of life after death, and questions surrounding the existence of miracles. In addition, the students will investigate a number of ethical questions surrounding our relationships with each-other and our environment, our responsibilities towards those more vulnerable than ourselves, and the development of moral codes in today's society. A study of crime and punishment, racism and social injustice also forms part of the course.
Geography
"Geography explains the past, illuminates the present and prepares us for the future. What could be more important than that?" Michael Palin
Our Geography department at Blatchington Mill is composed of enthusiastic, knowledgeable and experienced teachers. We believe we are in an exciting position to inspire young people to investigate and explore the varied and fascinating world they live in. Geography is a dynamic, diverse and exciting subject. It exists in a unique position to teach core skills such as literacy, numeracy, the sciences and ICT as a means to study and investigate the world, giving them purpose and life through Geography.
KS3
In Key Stage Three, students study a wide range of topics. Initially students study Geography through 'Combined Humanities' but in Year 8 and 9, students study China, Brazil, Coasts, Retail, Extreme Weather, Globalisation, Development, Plate Tectonics, Tourism and Climate Change. The skills and content we study link closely to topics studied at Key Stage 4. Students complete regular formal assessments at the end of each topic, totalling six in each year. More information on these assessments can be found on our department blog at http://blatchgeography.edublogs.org/
KS4 
At Blatchington Mill we follow the OCR B syllabus. There are two tiers of entry – Higher (grades A* to E) and Foundation (grades C to G). The syllabus blends Physical Geography (the natural environment) and Human Geography (people and their interactions).

The course comprises four themes, Rivers and Coasts, Population and Settlement, Natural Hazards and Economic Development.

Trips and out of class learning includes a fieldwork trip in the local area, as well as an optional one week residential course, which has been based in Barcelona or Iceland in recent years. It allows students to practice a range of Geographical skills and topics covered in the course, and is always extremely well received by students.
Homework is set weekly and involves a minimum of one hour of study per week, although this may vary from time to time. Students are encouraged to take a close interest in events on the news and/or documentaries of geographical significance. Our blog at http://blatchgeography.edublogs.org/ is designed to support students with this. Homework may involve research, written short or extended questions, preparation for a presentation or extended tasks such as revision. Work will often involve ICT either for research or for writing up.
History
"Those who cannot remember the past are condemned to repeat it." George Santayana
The history team at Blatchington Mill strive to use an enquiry based approach to the subject that, in addition to fuelling a passion to understand past events, encourages students to think for themselves, to ask questions, to form their own opinions and challenge the ideas of others in an informed way.
KS3
History is taught in Years 8 and 9. Subject content is varied with a mix of British and global topics. In Year 8, these topics include the study of Native American peoples and British history between 1500 and 1750. In Year 9, students will investigate the Trans-Atlantic slave trade and the development of the civil rights movement in the USA. In addition, we cover 20th century European history and focus on issues such as the causes of World War One, the reasons men 'joined up' and an examination of whether British 'Tommies' really were "Lions led by Donkeys." We also cover 20th century history and examine concepts such as the use of propaganda, democracy, dictatorship, communism and fascism.
KS4
GCSE history is an optional subject in Years 10 and 11. We follow the Edexcel specification. This has three units that cover a range of topics.
Unit 1 : Medicine in Britain 1250AD - Present, and The British sector of the Western Front 1914-18: Injuries, treatment and the trenches
Unit 2 : Anglo-Saxon and Norman England 1060 - 1088, and Superpower relations and the Cold War 1941-91
Unit 3 : Russia and the Soviet Union 1917-41 
PSHE
The PSHE department has a planned programme of learning through which our young people can acquire the knowledge, understanding and skills they need to manage their lives, now and in the future. Our aim is to provide the students with knowledge and skills to prepare themselves to keep healthy and safe in their lives as confident individuals and productive members of society.
PSHE provides a relevant, realistic and up-to-date curriculum, and deals with many real life issues facing young people as they grow up.
Aims
To provide pupils with accurate and relevant knowledge, using the Safe and Well at School Survey.
To provide opportunities to turn knowledge into personal understanding
To provide opportunities to explore, clarify and challenge values, attitudes, beliefs, rights and responsibilities.
To provide opportunities to learn and practice the skills and strategies in order to live healthy, safe, fulfilling , responsible and balanced lives.
To provide pupils with the ability to be able to signpost places that can provide help and advice.
In year 7 students have 3 hours of PSHE a fortnight, in year 8 they will have 2 hours a fortnight, and in year 9 will have 3 hours. Years 10 and 11 have 2 hours of PSRE a fortnight, incorporating one RE unit a year.
Curriculum Enrichment
There are a wide variety of speakers in PSHE.
In Year 7 and Year 8 East Sussex Fire and Rescue deliver appropriate sessions on Risk Taking behaviour. The NHS also visits in deliver sessions on Smoking and Risk in Year 7. Also in Year 7 we are visited by Raystede, the local animal rescue centre, who deliver a very informative session on Caring and Responsibility.
In Year 8 Allsorts (LGBT Youth organisation) deliver a workshop on LGBT issues including gender identity.
The Terrence Higgins Trust THT talk to our Year 9 as part of our STI unit, and specifically talk about Living with HIV as part of their Positive Voices branch.
Currently, these are the NHS who provides nurses in Year 10 and 11. They talk about sexual health and include an optional chlamydia test. In Year 10, The Rita Project – a domestic violence charity - delivers a session on safe and unsafe relationships and where to seek help and advice. Also in Year 10 we are visited by the Gatwick Detainees who raise awareness for refugees and asylum seekers.
The AA supports our Year 11 drug and alcohol curriculum, and finally in Year 11 the YMCA educate the students on finances and homelessness.
Students also have three 'theatre in education' performances at Blatchington Mill:
Year 7 – Road Safety Awareness- Streetwise
Year 8- Awareness on Child Criminal Exploitation -County Lines
Year 11 – Road Safety Awareness- Passenger
PSHE students also have the opportunity to become an LGBT Ambassador , to join LGBT Club or to join a Girl's Cycling Club.
In addition, we are often involved in Awareness Days. Recently these have included World Aids Day, No Smoking Day, Time to Talk (mental health), Anti-Bullying Week, LGBT History month, Road Safety awareness, Refugee Week and Alcohol awareness. We have also taken part in The Great Get Together and Diversity Week.
Religious Studies
KS3
In an expanding world where empathy and understanding of different cultures and beliefs is becoming increasingly important, the Humanities Department aims to bring diversity to life. From questions surrounding the origins of the universe to the study of animal ethics, students are encouraged to explore, question and reflect on a number of religious and non-religious approaches to the big questions in life. We want all students to leave KS3 with a passion for learning and a keen sense of compassion for others. This course aims to give students the ability to articulate their own beliefs and priorities whilst respecting the diverse views of others.
KS4
The GCSE Religious Studies course is RE with a difference! This course will ask students to consider key questions such as 'is there life after death?', 'How could a loving God allow us to suffer?' and 'Is it ok to be gay?' The focus of this course is the student – what do they think? Can they justify their own opinion? Can they recognize why others might hold a differing opinion?
Most students enjoy nothing more than a good debate and this course is all about justifying opinions and listening to the opinions of others. In a classroom where no one can be wrong, students have the opportunity to develop a keen sense of self whilst expanding their understanding of human nature. Only open minds need apply!
Sociology
Why study Sociology?
Sociology helps students develop a wide range of knowledge and understanding about society, and how sociologists study and understand its structures, processes and issues. Sociology is exciting, interesting and relevant to students' lives.
The aims of sociology are to study and explain behaviour and how things may influence both individuals and society. We study the major parts of society and how they fit together and show the links between different aspects of the world in which we live. We aim to encourage students to understand the complex nature of society and to be curious about the world around them.
The major sections we study are: methods, family, work, education, health, youth, crime and deviance. We also aim to develop skills of analysis and evaluation so that students feel confident in making comments about behaviour, events and also evidence.
KS4
Sociology is the study of society and behaviour.  The GCSE course aims to help students study and understand the way we behave and live together in a society. The main areas of study are:
Investigating society
Culture
Education
Identity
Crime and Deviance
Mass Media
Socialisation
Work
Youth
The Family
Collecting and using information
Conducting a sociological study
Sociology is concerned with finding out about people and so is useful for students who have an interest in the world around them. The course is based on the OCR GCSE sociology syllabus.
ICT/Computing and Business Studies
Subjects : GCSE Business Studies, GCSE ICT, GCSE Computing, BTEC Level 2 Award in Business, ECDL, BTEC L3 Subsidiary Diploma in Business, BTEC L3 Subsidiary Diploma in ICT(ICT), BTEC L3 Subsidiary Diploma in ICT(Computing).
Why study, ICT/Computing and Business Studies at Blatch?
The Computing and Business Studies department at Blatchington Mill provides a broad and balanced curriculum throughout Years 7 to 13. We aim to provide students with all the necessary ICT/Computing & digital skills and understanding required to be effective in the digital age. We regularly review the ICT/Computing and Business curriculum to ensure that all our students develop up to date knowledge and skills fit for the 21st century workplace, and that they leave Blatchington Mill school and 6th Form ready for the next steps in their lives, whether that be work, further or higher education.
The aims of the ICT/Computing and Business Studies Department
To stimulate interest and enjoyment in the study of ICT/Computing and Business Studies.
Ensure that all students have a broad and balanced ICT and Computing curriculum at KS3 and clear pathways through KS4 and KS5.
To develop the knowledge, understanding and capabilities of ICT and Computing.
Encourage students to develop an understanding of the wider applications and effects of ICT and Computing.
Encourage students to solve problems through the use of information systems and associated principles and techniques.
Provide students with a broad and balanced view of the range of applications and information systems, and an understanding of their capabilities and limitations.
To provide an opportunity for all students to achieve their potential through differentiated programmes of study, and access to extracurricular visits and speakers.
To provide experiences which are challenging, stimulating and, where appropriate, directly relevant to the present and future needs of the students.
To provide learning activities that are varied in nature including: Practical tasks, Formal teaching, Interactive teaching, Project work and Group work.
KS3 ICT & Computing
In KS3, students will have two lessons per fortnight. These will cover a range of topics that will help to develop their ICT skills and introduce them to computing concepts. Within KS3 ICT & Computing lessons, students are introduced to ICT & Computing through a clear framework of lessons that will reflect the new Computing Programmes of Study. In Year 7, students will identify and describe a range of computer components and distinguish the difference between hardware and software. They will also cover the topic of E-safety and learn more about this important area to create their own webpages. Students are introduced to data collection, modelling and animation through enjoyable schemes of learning. Students will also use Scratch and Kodu to develop fundamental programming concepts.
In Year 8 and 9, students are further challenged to implement their ICT skills to use a range of software and are also introduced to the theoretical side of the subject. This will involve students learning and using a range of computer programming languages, algorithms and computational abstractions. The units of work will develop students' ability to use their ICT & Computing skills in a range of different contexts to solve more complex problems. Students during Year 8 and 9 will use a range of programming languages including Scratch, Kodu and Python, as well as the Appshed where students are designing and creating Apps to be used on smartphones created with a real local community need.
KS4 – GCSE
The Computing and Business Department offers three courses at Key Stage 4; catering to a wide range of student interests and learning preferences. The GCSE ICT course places a strong emphasis on using computer applications to solve problems. The GCSE Computing course moves that emphasis to understanding and developing new software and goes to the heart of how a computer functions from the lowest level. The IT practitioner's course is more hands on and provides emphasis on the vocational and technical side to IT.
GCSE ICT (Edexcel)
Students study GCSE ICT over Years 10 and 11 as a way of developing practical skills in ICT applications, alongside a thorough knowledge and understanding of ICT concepts. The course is composed of 60% controlled assessment tasks that are completed in class. These tasks require students to demonstrate ability in spread sheets, web publishing, desktop publishing, graphic design and use of relational databases. The remaining 40% of assessment comes from an exam sat at the end of Year 11 where students are tested on their understanding and application of key ICT concepts. This course would be a solid foundation for students considering further studies or a career in ICT, with the possibility of studying ICT or Computing at A-level/Level 3 at Blatch 6.
GCSE Computing (OCR)
Computing is a subject distinct from ICT in that the focus is on developing the skills, knowledge and understanding to create computer systems, including software and applications in use on computers and mobile devices. This course teaches students to understand the fundamental concepts of computing and develop software applications to solve a range of problems. Students with a keen interest in solving abstract problems and logic will find this course highly engaging. The course is assessed through two controlled assessment tasks completed throughout the two years of study (contributing 60% of the marks) and a written exam (weight at 40% of the course) undertaken in Year 11. Topics covered include practical programming projects using the Python programming language, computer memory and data storage, networking, hardware and software components and logic. Students should consider GCSE computing if they wish to pursue further studies in computing or programming, or a career in software or game development. This course would be a solid foundation for students considering further studies or a career in ICT, with the possibility of studying ICT or Computing at A-level/Level 3 at Blatch6.
European Computer Driving Licence (ECDL) Level 2
The aim of this qualification is to recognise the application of a range of IT user skills and knowledge in the workplace, meeting employer workforce demands. ECDL Extra is a fixed combination, and promotes the efficient use of popular office application software including word processing, spread sheets, and presentations. The achievement can be used towards a flexible Level 2 Diploma or towards a higher level qualification, such as a Level 3 Certificate or Diploma.
BTEC First Award in Business (Edexcel) Level 2
The BTEC Level 2 First Award in Business will develop and recognise your skills, knowledge and understanding of business functions, environments and operations in a practical way that is relevant to today's work environment. In order for students to achieve the Award in Business they are required to accumulate a total of 120 GLH = 1 GCSE. This consists of two mandatory units, Enterprise in a Business World (30 GLH) and Finance for Business (30 GLH) and 2 optional unit Principles of Marketing and Promoting a brand.
Students who gain an overall merit/distinction grade may progress onto a level 3 qualifications such as the Level 3 Subsidiary Diploma in Business subject to meeting the necessary entry requirements. Students would also be able to gain entry to employment at an appropriate level within a business.
Performing Arts
Subjects : Drama, Dance, Music
Drama
The drama curriculum in Years 7, 8 and 9 is currently structured in half-termly blocks. In Year 7 the emphasis is largely on improvisation and ensemble building exercises, during which essential foundations are laid for further work. The work at this level encourages the development of trust and co-operation, clarity and control in vocal and physical expression and a basic understanding for stage space and performance disciplines. In Year 8 these foundations are strengthened through further exercises in improvisation at more advanced levels. The principle of status in drama is explored through improvisation and script work with a focus on 'Blood Brothers'. In Year 9 the Drama curriculum focuses on specific texts, such as 'Romeo and Juliet', through which further drama conventions and strategies are introduced during work on theme and character. Some contrasting styles of theatre are introduced, providing a broad awareness of genre. The skills and knowledge developed in the KS3 curriculum form a perfect transition into GCSE Drama as well as a basic knowledge for the Level 2 BTEC Stage Management course.
GCSE DRAMA
We follow the AQA GCSE Drama syllabus (3241).
Students taking Drama at GCSE can expect a course which is varied and stimulating as well as challenging. The syllabus tests a number of skills: besides acting ability students must demonstrate that they can research a role or topic, work well in a group, manage their time effectively, reflect upon and evaluate their own work and that of others, and analyse live productions. Because the course is so varied no two lessons are the same and homeworks will be similarly diverse – writing up practical work, researching a character, learning lines, finding props and costumes, developing ideas, and so on.
Music
KS3
In KS3, all students study Music once a week. The KS3 curriculum covers a wide range of styles of music from different eras and different parts of the world. The skills developed throughout the course are based around performing, composing, writing about music, aural recognition and reading staff notation. All students sing in lessons, perform and compose on the keyboard, ukuleles, Samba drums, African drums, as well as using iMac computers. In addition, in Year 8 and 9, students are allowed to choose from a wider range of instruments including acoustic and electric guitar, bass guitar, drum kit and using their own instruments in lessons. Through Music, students also develop essential skills such as analysis skills, group work, leadership skills, cooperation, determination and a cultural awareness of eras and traditions new to them. The skills and knowledge developed in the KS3 curriculum form a perfect transition into GCSE Music or BTEC Music Technology L2.
The Music department is committed to offering all students access to courses that best suits their musical needs, catering for both the more traditional music route through the study of GCSE and the more practical based courses; for example BTEC Level 2.
All courses draw from a wide range of musical genres, concepts and techniques aiming to provide our students with a well-rounded musical education and opportunities to explore music in creative ways.
We aim to ensure that all students who study music have the relevant skills to pursue their future aspirations within this field.
In KS4 additional support, for students who require it, is provided through intervention groups which are carried out after school. These are aimed at supporting students who may find the written elements of the courses more challenging. Additional composition time can also be allocated when required.
Homework is meaningful and set consistently across all courses. We believe that this supports students' progress and is an integral part of their learning and understanding of key concepts. In music-specific courses, students are expected to play at least one instrument and instrumental lessons would be a benefit.
We have a very active music department offering students opportunities to get involved in a wide variety of extra-curricular activities and events.
Music GCSE
This is a Level 2 course which provides the more traditional route and consists of the following Areas of Study: Performing, Composition and Listening and Appraising.
Performing: This is split into solo performing and ensemble performing, and should be completed on the student's strongest instrument (instrumental lessons are recommended to students who take this qualification).
Composition: Candidates will compose two pieces or arrangements; these will be chosen from the styles of music studied throughout the course. One composition is a 'free' composition and the second is based on a brief set by the exam board. Composition is carried out using musical instruments and computer sequencers (Garage Band and Logic on new Apple Imac G5 computers).
Listening and Appraising: This is examined through a 1½ hour exam. Candidates will answer questions based the Areas of Study; Film Music, Rhythms from around the World, Concerto Through Time and the Conventions of Pop
Students will be expected to have a basic knowledge of music theory (e.g. note values, note names, basic understanding of reading music). Throughout the course candidates will develop these skills, which will enable students to gain confidence when understanding the set works and completing the listening paper.
Music BTEC level 2 (Performing)
This is a Level 2 course where students study four units.
Performing – students will track and develop their performing skills through regular reviews, performances and a written log of their development (internal assessment).
Composing – students will create different compositional ideas, develop some and then create and extended composition in a style of their choice (internal assessment).
Music Industry – students will learn about the Music Industry – roles, responsibilities, companies and professional unions. They will learn to respond to different scenarios within the real world of the Music Industry and will sit an exam in Year 11 (externally assessed)
Managing a Music Product – students will be part of a team that puts on a school concert in the Windmill Theatre. This has been a music fundraising concert in the past, but is decided each year by the group. They will take on roles in the preparation (audition judge, promotion, artistic management…) and a different one on the night of the show (refreshments, box office, usher, stage manager, crew, compere…). Their work will be recorded in a log book. (internally assessed)
Additional Information.
In addition to each of these courses, there are many enrichment opportunities that make full use of the facilities available in Blatchington Mill School, including:
Involvement in a range of ensemble activities

Supporting and planning musical events both within Blatchington Mill Theatre

Involvement in a range of visits to musical performances within Brighton and the opportunity to take part in musical workshops lead by external music practitioners.

The opportunity to perform in several shows and full scale musicals (singing, acting or playing in the pit band).
PE
Subjects : Physical Education, Dance.
At Blatch our vision for PE is underpinned by the school ethos of "Involvement, Achievement and Care". We believe in sport for all and aim to promote lifelong participation in physical activity alongside leading healthy active lifestyles and develop, physical literacy, student confidence, communication skills, teamwork and leadership in and outside of lessons, alongside developing excellence.
We aim to -
Inspire our students to succeed and excel in competitive sport and other physically demanding activities.
Provide an enjoyable programme of activities and promote active healthy lifestyles.
Develop knowledge, skills, attitudes and confidence to help encourage a lifelong commitment to physical activity.
Provide opportunities to help embed the values of fairness and respect.
Introduce students to a broad variety of physical activities and remove barriers to participation.
To develop an understanding of the importance of regular physical activity for maintaining a healthy life.
KS3
Year 7 and 8 students have 3 x 100 minute lessons over two weeks – Girls and boys are taught in mixed ability groups with some mixed and some single sex groups.
In year 7 all students participate in: Orienteering, Gymnastics, Trampolining, Health Related Exercise, Dance, Rugby, Netball and Hockey in the winter terms and Athletics, Net Games and Striking Games in the summer terms.
In year 8 all students participate in: Rugby, Netball, Hockey, Trampolining, Basketball, Football, Badminton and Dance.
In year 9 students have 1 x 100 minute lesson a week and an element of student choice is introduced into the activities programme. Students follow a pathway that they select based on the outcomes that they want to achieve from PE - challenge me, competitive me, creative me or healthy me. Activities suited to these pathways are offered and student preference is taken into account when designing pathways.
KS4
All students have a 1 x 50 minute core PE lesson a week and pathway options are the same as year 9 - challenge me, competitive me, creative me or healthy me. Activities suited to these pathways are offered and student preference is taken into account when designing pathways.
In year 9 students can opt to do a Young Sports Leadership qualification as an extra to their core PE lessons and carry this on into year 10 to become a Blatch Sports Leader.
The department also offer examination PE. There are two types of course available - GCSE PE and Level 1 / 2 Award in BTEC Sport.
GCSE - The course is split - 30% practical, 10% coursework and 60% theory split into 2 exams.
Theoretical aspects - students study the following topics: - Fitness and Body Systems and Health and Performance. As part of the practical aspect of the course students are assessed on their ability in 3 Sports. Students must participate in at least 1 team and 1 individual sport. Students must also complete and evaluate a 6 week personal exercise programme.
BTEC Level 2 First Award in SPORT - This is mainly assignment based with coursework representing 75% of the total marks. There is also a written exam in the form of an onscreen multiple choice, short answer and long answer style questions which makes up the remaining 25% of the marks.
Units of work studied: Fitness for Sport and Exercise, Practical Performance in Sport, Applying the Principles of Personal Training and The Sports Performer in Action. As part of the Applying the Principles of Personal Training unit, students are required to design, carry out and review a personal fitness training programme.
The qualification is graded as a Level 1 Pass, Level 2 Pass, Level 2 Merit, Level 2 Distinction or Level 2 Distinction*.
Sports Facilities
4-Badminton court sized Sports Hall with 2 indoor cricket nets, full sized basketball court, netball court, volleyball court and futsal pitch.
2 floodlit 'All-weather' Hockey pitches
2 gymnasiums (one with 4 trampolines)
Dance studio
Rugby pitch
Grass Football pitches
5 Netball courts (including 1 indoor)
5 Tennis courts
Athletics track
Long jump pit
Outdoor gym
Extra - curricular provision
Facilities and equipment are made available for students to use at break and lunch times.
All students have the opportunity to be physically active during lunch times and after school. There is the provision of both non-competitive and competitive opportunities for all students.
The emphasis is on participation and enjoyment and the opportunities are open to young people of all abilities.
Badminton, Basketball, Tennis (summer) and an outdoor gym are available for use at lunchtimes. After school activities include Football, Rugby, Hockey, Netball, Badminton, Trampolining and Basketball in the winter and Cricket, Striking Games, Tennis and Athletics in the summer.
A variety of teams from across the year groups compete in the Brighton and Hove Schools leagues and are also entered into County and National competitions.
Inter-form activities are organised throughout the year to promote physical activity and help encourage active healthy lifestyles.
Through the Young Leaders and Sports Leaders programme, students have the opportunity to be involved in the planning, organisation, and administration of the activities on offer.
The school has links with Brighton and Hove Hockey Club, Brighton and Hove Cricket Club, Hove Rugby Club, Brighton Rugby Club and Coral's Health and Fitness Club.
An annual Football residential trip to Manchester to see Manchester City play and tour Old Trafford and the football museums!
An annual residential ski trip abroad is also run! 
Dance
All students study dance on rotation within the PE curriculum, with the option to take the subject further within PE in Year 10. The emphasis is on physical skills, creating dance pieces and evaluating work. Dance styles studied include contemporary, capoeira and street dance.
At Key Stage 4 either BTEC Level 2 or GCSE Dance are offered depending on the group. These courses focus on the artistic qualities of dance and the use of movement to express and communicate ideas through performance, choreography and critical appreciation. During the course, students develop skills of aesthetic development, physical fitness, confidence and self-esteem through performance, team-working, problem solving and creativity. Again a range of dance styles are studied. Students can also choreograph dances in whichever dance style they are most comfortable or specialised, for example tap or freestyle. The GCSE option includes a written exam at the end of Year 11.
Design
Subjects : Art and Design, Applied Art and Design (Double Award), 
Food Technology, Graphic Products, Resistant Materials Technology, Textiles Technology.
The Design and Technology Team at Blatchington Mill School believe that our subject provides a variety of skills to enable our students to think creatively, critically and independently.
We use a wide range of materials and processes to equip students for life and become the designers of the future through exciting and challenging projects. We offer a wide range of projects and courses throughout all three Key Stages which are designed to build on designing, making, analytical & evaluative skills. Design & Technology is fun and exciting. It's a challenging subject and we put projects into contexts that make them relevant to life.
KS3 projects:
All students complete projects in a variety of materials:
Food – Students cook mostly savoury recipes. They learn about food safety, use of equipment, healthy eating, nutrition, choice of ingredients and environmental and current food issues.
Textiles – Students complete several practical projects using a variety of materials and equipment. Students learn to sew by hand and with the sewing machine, using a range of progressively more complex techniques. They learn about fibres and fabrics and look at topics such as fabric decoration and fashion.
Design - students are taught about safe working in a workshop environment. They work with plastic, metal and wood. Project involves design work drawing in 2D, 3D, and using computer aided design software. Students learn model making, planning, as well as developing an understanding of materials and equipment.
KS4: Students can choose to study a specialist design subject at KS4
GCSE Courses:
Graphic Products, Textiles, Resistant Materials, Food Technology & Child Development
BTEC Course:
Jamie Oliver Home Cooking Skills Level 1
Extra curricular activities & trips include:
GCSE 'Help' sessions.
After school clubs including – Textiles club, Cake Making Master Class, KS3 Design Making a Long board.
The Clothes Show Live trip.
Design Trips to the Booth Museum in Hove, the Design Museum, The Victoria & Albert Museum.
Competitions: Fashion, Cup Cake Competition, Master Chef, STEM inter school Design Competition.
Art
The Art department at Blatchington Mill School provides an inspiring and supportive environment in which each student can explore their own ideas and develop their creativity. Students will experiment with a wide range of 2D and 3D media and processes, and be encouraged to create ambitious outcomes.
We are a creative, enthusiastic and imaginative department encouraging students to experiment and take risks with their artwork. To add to their growing confidence, artworks created by pupils of KS3 age are displayed on walls around the school and work is also hosted on a popular interactive online gallery.
If students wish to study further with the subject at KS4 and KS5, artworks are displayed in an end of year public exhibition, which always attracts a lot of interest and never fails to impress visitors.
Historically our results have been well above the national average and to note over the last three years our G.C.S.E results have reached over 90% A*-C. This excellence is partly due to the commitment of the students and their enjoyment of the course.
KS3 Projects:
All students complete projects in a variety of materials, and will create both 3D and 2D artwork. We work within three themes thought KS3, these are: Animals, Environment and Expression.
KS4: Students can choose to study a specialist Art subject at KS4.
Art and Design- General Art and Design course.
Art and Design- Digital Art Course.
Extra Curricular and Trips include:
It is a common thing to find Blatchington Mill students work displayed in the local community and for their work to be found in the local press. Southern Rail has used students' digital artwork as part of their litter campaign. Posters were displayed across all South East train stations. The opening of the work was attended by a local MP and appeared in local newspapers.
Students have decorated the city as part of the Brilliantly Brighton competition.  Blatchington Mill students' work was transferred onto banners and was part of a vibrant and exciting display throughout the streets of the city.
Students have produced Jewellery designs for a local jeweller. One of the designs was made by the company in solid silver and featured in local newspapers.
We encourage ambitious outcomes and to support this we operate an open door policy. Students are able to use the art rooms after school most days of the week to either 'catch up' or to extend their studies. In addition to this, we run KS3 after school workshops which change yearly according to demand.  For example: Digital Photography Club, Doodle Club, Clay Workshop, Printing Workshop.
We visit a number of local and national galleries. These include visits to the Tate Modern, V & A museum and the National Portrait Gallery.  Students consider and respond to artists, craftspeople and designers' work first hand. Students are encouraged to appreciate and consider historical and contemporary contexts for artwork, alongside developing their own practical skills.
Modern Foreign Languages
Subjects: French, Spanish, and Arabic
Modern Languages make an important contribution to a broad and balanced curriculum for all students. Here at Blatchington Mill School we have been recognised by the Department for Education as a Lead MFL HUB School and as such are one of only nine schools across the country to have been selected for delivering outstanding provision of MFL teaching and learning. Our courses are designed to develop the practical aspects of communication. These practical skills are very useful when travelling abroad, whether on holiday or for work. Students will also learn about the structure of language. This will strengthen and improve their knowledge of their native language as well as provide the foundations to learn other languages later in life. Study of a foreign language also helps students to understand and appreciate different countries and cultures. This is essential in the modern world, with its emphasis on international trade and communication.
As a part of lessons, students studying a language can expect to take part in a broad range of speaking, writing, reading and listening activities. These include activities using a variety of authentic texts, recordings and video clips from native speakers. 
Students are encouraged to make use of our subscriptions to online interactive materials to complement their independent learning. These include websites such as Kerboodle and Quizlet which are particularly effective at enabling students to undertake targeted practice of key verb forms and vocabulary in order to commit them to long term memory.
At Blatchington Mill School we organise a range of cultural exchanges and events, residential and day trips and pen pal programs in collaboration with our partner schools in France and Spain. These enable our students to experience fully the culture of the country and language they study. 
Key Stage 3
Students study one modern foreign language at Blatchington Mill School, either French or Spanish for the entirety of Key Stage 3. Parents and carers are able to express their interest in which language their child will study when applying for the school.
Key Stage 4
Our expectation is that most students at Blatchington Mill will take a language. Students have the choice between French, Spanish or Arabic and follow the AQA specifications.
Student Support
At Blatchington Mill we have a strong commitment to meeting the needs of all our students; to support the acquisition of the skills and values in order to live a full, flexible and rewarding life.
Interventions
There are currently a range of interventions led by our special educational needs (SEN) teachers and specialist TAs, which include:
Literacy interventions for students working below national expectations.
Mathematics interventions for students working below national expectations.
'Sound Blast' phonics to develop phonological awareness.
Rapid Plus reading scheme to increase known sight vocabulary and comprehension.
Circle of Friends.
One-to-one sessions following programmes devised by outside agencies, such as a Speech and Language Therapist.
The planning and delivery of interventions at Blatchington Mill are closely matched to research on what makes a successful intervention, namely:
Assessment information is carefully used to design programmes that match what individual pupils need, rather than a 'one size fits all' approach.
They have a 'little and often' approach to promote mastery learning.
Opportunities for multi-sensory learning are planned for.
They have carefully selected objectives, focused on one or two small steps, to address fundamental underlying misconceptions of gaps in skills.
Assessment opportunities are then embedded in the learning; to inform planning and evaluate the effectiveness of the intervention.