Exam Results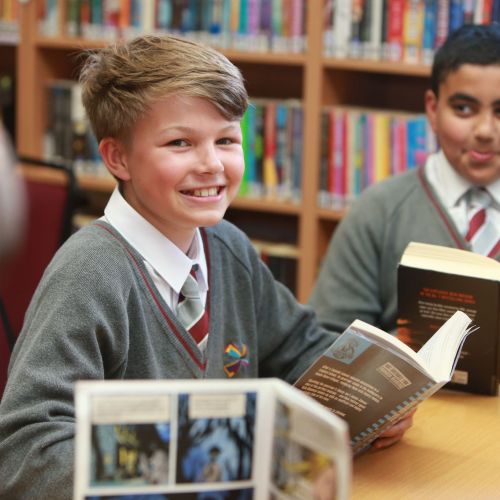 For the last 2 years GCSE exams have been cancelled and schools have undertaken both Centre Assessed Grades (2020) and Teacher Assessed Grades (2021) as part response to the Coronavirus pandemic.  Both of these were put in place after the Government's decision to cancel examinations. At Blatch we followed a rigorous and detailed assessment process to ensure students were judged fairly and objectively on their work over the course of their studies, including mock exams, so that they received the grades they deserved. The results students received were fantastic and a true reflection of their effort and the effort of their teachers, enable Blatch students to move onto the post -16 destinations of their choice for A levels and other qualifications
As with all schools, our last set of results for actual public exams were those achieved in 2019. Students have continued to improve and thrive since then. In 2019 students, staff, parents and carers at Blatchington Mill School celebrated a year of superb exam results - with higher pass rates and more top grades achieved by all students than before.
Blatch students outperformed national expectations for both attainment and progress. In all measures the school is reporting improved outcomes, building on the already high attainment of the past 5 years. The attainment 8 score for 2019, which measures achievement across all subjects, rose from 48 to 51.6, an indication that students are achieving higher grades on average across all subject areas.
Strong performance in English and Maths: A stunning 87% of students achieved a pass or better in English, with 82% doing the same in maths in our last set of exam results. Both these results represent an increase of 8% from the previous year. On top of this, an impressive 143 students in English achieved the challenging top grades 7-9. In Maths 73 students received a grade 7-9, underlining the high academic standards across the core subjects.
Broad and balanced curriculum: Student performance in EBACC subjects (English, Maths, Sciences, Languages and Humanities) has improved further, with the majority of students taking the EBACC and the standard pass rate increasing by 8%. With 30% of all students achieving a strong pass in the EBACC (grade 5+ in all subjects) and 39% a pass, led by improvements to outcomes in History and Geography in 2019. Achievement in languages was also up, with the pass rate rising to 83%, a testament to our leadership as a Modern Foreign Language hub school. There were excellent outcomes across Art, Design and Performing Arts, with Music standing out with a 100% pass rate and 50% of students achieving the very top grade possible, grade 9. What makes these results doubly impressive is that all GCSE courses at our comprehensive school are open to all students, with no selection criteria.
Academic Excellence: An outstanding 353 grades 8 and 9 were awarded to Blatch students, an increase of 56 from 2018. A significant number or students - 47 - achieved grades 7-9 in 6 or more subjects. There were 25 grade 9s achieved in English, 19 in Maths, 34 in Science and 16 in languages. Nationally, only a small number of all grades are issued at grade 9 so it is incredibly pleasing that so many were achieved by students at Blatch.
Please click here to find our performance data on the DfE website.
Summary of data for 2019 (please note we have since had two years of strong Centre and Teacher assessed grades so these are not current)
Attainment 8 score (a score based on how well on average pupils perform in up to 8 qualifications): 51.6 
Progress 8 score (this shows how much progress pupils at this school made compared to other similar pupils nationally between the end of year 6 and year 11. A positive score like ours means students make more progress than expected in a school): 0.08
% of pupils achieving a strong pass (grade 5 or above) in English and maths: 58%
% of pupils entering the English Baccalaureate (a pupil is considered to have entered for the English Baccalaureate if they entered for qualifications in English, maths, sciences, a language and either history or geography): 51%
EBacc average point score (APS): 4.68 
Pupil destinations (the % of pupils staying in education or going into employment after year 11): 97%