Careers Advice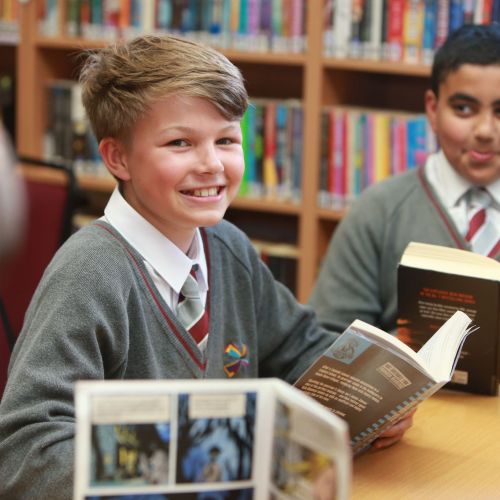 Careers Education Statement
Please click here for our Careers Education Statement [pdf]
Careers Information & Links
Are you in year 11 and thinking about what to do next?
Perhaps you are about to leave the sixth form and are considering further study or work?
Maybe you are choosing your GCSEs?
To make the best decision for you, you need to take time to do research, to try out what you think interests you and to speak to people who can help you understand your options.
At your school you have access to the independent Careers Advisor Miranda Glavin and her colleague Cathy Johns, through one to one guidance sessions, careers workshops and assemblies.
To help get you thinking first have a look at some of the sites and other suggestions recommended below as the more you know the better informed your decisions about your future will be. Also remember most education providers, employers and other organisations advertise opportunities (such as work experience, jobs, courses, apprenticeships) online so make sure you join the facebook and twitter accounts of any you come across that interest you. A good start is joining Miranda's networks here – facebook and twitter.
The following websites will help inspire anyone feeling unexcited about their future and tell you more about working in lots of different areas as well as using different subjects. Think about the kinds of skills, knowledge and personalities suited to the different jobs you research and if they would suit you. Let's get started…..
How do I Make Decisions?
Transition Time!
There are some important decisions to make in year 11 and 13. Your careers advisor can help you make decisions that are right for you. But before you meet with her it is a really good idea to first think through the following process:
No ideas?
Don't even know where to start? The following general sites will get you thinking.
ITEM
NEEDED
www.icould.com
Great site for finding out about jobs and careers you might never have thought of! See www.icould.com/whats-your-subject for careers using different subjects and by different life decisions www.icould.com/watch-career-videos/by-life-decision.
The quick questionnaire www.icould.com/buzz will also give you some job ideas that might suit you.
www.talkingjobs.net
Lots of interesting videos of people working in different areas.
National Careers Service
See a list of job families you can start to explore the different kinds of roles within certain areas.
Sector Guides
This is created by Sussex University and it has some really useful information on different areas of work. If you click on a guide make sure you click on the sector overview, get jobs and experience and news and resources tabs to find out lots of current useful information.
Subject and Sector Specific
If you have some ideas of the areas that might interest you (maybe you're a music fanatic or you love Chemistry experiments) then the following websites will help. They offer information either about particular areas of work (e.g. law) or a broad type of work (e.g. doing something with science).
So if you have some ideas of the kinds of areas that might interest you this is a good place to find out more. Also if you have a particular job in mind search it here to find out more about the necessary qualifications and what the job is like.
CAREER
WEBSITE
Accountancy
www.icas.org.uk
Animal and Veterinary Work
www.rcvs.org.uk/education
www.bvna.org.uk/smartweb/careers/careers
www.beva.org.uk/useful-info/CareersinEquineHealth
Architecture
www.architecture.com/EducationAndCareers/BecomingAnArchitect/Becominganarchitect.aspx
Armed Forces
www.army.mod.uk/join
www.royalnavy.mod.uk/Careers/Careers-Introduction
www.raf.mod.uk/careers
Art and Design
www.designcouncil.org.uk/about-design/Design-as-a-profession
www.creative-choices.co.uk
www.a-n.co.uk/jobs_and_opps/shortcut/article/170806
www.ergonomics.org.uk/careers-advice
Civil Aviation (Pilot)
www.balpa.org/Become-A-Pilot.aspx
Civil Service
www.civilservice.gov.uk/recruitment
Construction Industry
www.bconstructive.co.uk
Creative Careers
www.creative-choices.co.uk
www.creativeskillset.org/careers
Drama
www.drama.ac.uk
Engineering
www.tomorrowsengineers.org.uk
www.whynotchemeng.com
Environmental and Land
www.lantra.co.uk/careers/careers-home.aspx
Forensic Science
www.skillsforjustice-cp.com
Hair and Beauty
www.habia.org/c/1733/careers-information
Health
icould.com/focus-on/healthcare
www.nhscareers.nhs.uk
www.skillsforhealth.org.uk/developing-your-organisations-talent/careers-information,-advice-and-guidance
www.cot.co.uk/become-ot
Hospitality, Leisure, Transport and Tourism
www.Springboarduk.org.uk
www.people1st.co.uk
www.careersinpassengertransport.org
www.careersatsea.org
IT
www.bigambition.co.uk
www.bcs.org/category/7874
Journalism
www.creativeskillset.org
www.nctj.com/careers
Law
www.lawcareers.net
www.skillsforjustice-cp.com
Legal Services, Justice and Community Safety
www.skillsforjustice.com/Careers
www.skillsforjustice-cp.com
Maths
www.ima.org.uk/careers.cfm
www.mathscareers.org.uk
Medicine
www.bma.org.uk/developing-your-career/becoming-a-doctor/entry-to-medical-school
www.medical-interviews.co.uk/interview-questions-medical-school-interviews.aspx
www.nhscareers.nhs.uk
Medicine, Dentistry, Veterinary Medicine and Veterinary Science
www.ucas.com/students/choosingcourses/specificsubjects/meddentvetcourses
Media, TV, Radio, Film
www.creativeskillset.org/careers
Music
www.getintomusic.org
www.ism.org/training/careersguides
icould.com/focus-on/music
Nursing and Midwifery
www.nmc-uk.org/Students
Police and Fire Services
www.skillsforjustice-cp.com
Performing Arts
www.getintotheatre.org
www.creative-choices.co.uk
Physiotherapy
www.csp.org.uk/professional-union/careers-development
Psychology
www.bps.org.uk
Science, Maths and Technology
www.futuremorph.org
www.societyofbiology.org/education/careers
www.iop.org/careers/index.html
Sport
www.careers-in-sport.co.uk
Teaching
www.education.gov.uk/get-into-teaching
Training and Learning - Different Routes
16 – 18
Remember there are different routes you can take after year 11.
You can continue to study academic courses at sixth form or further education colleges. Examples would be maths, Spanish, music A Levels.
You can choose more vocational courses (this means they are directly related to a type of work) such as a hair dressing diploma.
You can also do an apprenticeship in different types of work anything from the arts, education, and engineering to retail, leisure, IT and more. This means you are paid to study at a college or training provider while working with an employer to gain specific skills. Have a look at www.apprenticeships.org.uk to find out more.
18+
For careers that require university degrees check www.ucas.com. Here you can check the A Levels or equivalent needed to get into different university courses. You can then make sure your choices at 16 will keep the options that interest you open.
You can also take apprenticeships to a higher level see www.apprenticeships.org.uk
Work and Voluntary Experience
For certain areas of work (such as medicine) experience in that field is essential. Work experience also helps:
You reality check – is it what you thought it would be? Is it right for you?
Provide evidence of your interest and motivation to demonstrate to universities and employees
A chance to meet potential employers and contacts (people that can help in your career)
You to learn new skills, gain knowledge and experience
www.do-it.org has lots of opportunities you can explore.
Speak to friends, family and local employers to see if they can help you gain experience. Remember all experience is worthwhile as it helps you learn more about what interests you. If you do enjoy your work or voluntary experience really think about what aspects you liked and equally if you didn't consider what was it you didn't like.